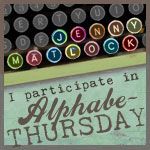 Yes, there are a couple of guys in the background, but hey, they aren't doing anything!
So, go with with me on this one,what we have here is a Quartet!
I also want to let everyone know I have a 100 follower GIVEAWAY going on now on my blog! Be sure to enter. Three winners, three prizes! It's ongoing, until we reach that 100 follower! Thank you!